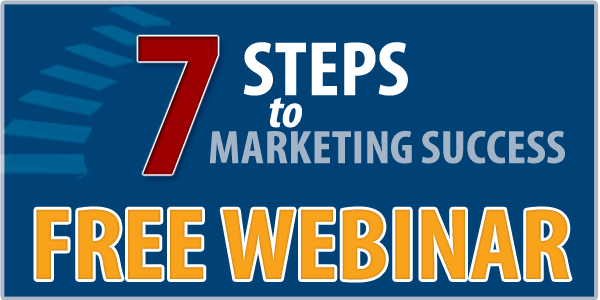 Marketing is the most important system your business has.
What if you had a crystal-clear picture of your target market – and they were also your ideal client?
What if you could simply and effectively communicate your unique difference?
What if your confidence soared in brand recognition?
What if you spent money on marketing and knew exactly how effective it was in bringing in new customers?
What if you knew why your customers really buy from you?
What if you followed a defined marketing plan?
After this webinar, you will never look at marketing the same.
Learn the steps to creating a Marketing System that produces consistent and predictable results instead of trying hit or miss tactics each week. Make your business stand out in a crowded marketplace by starting with strategy and resulting in success with less chaos and more sales.
Duct Tape Marketing Founder, John Jantsch, developed these 7 Steps to help businesses grow. Thousands of small businesses have already learned how to use strategic marketing to create success. Why not yours?
Randy Vaughn, Dallas-Fort Worth's only Duct Tape Marketing Certified Consultant, will explore these 7 simple steps.  Randy, who also spent almost 10 years planting churches in rural West Africa, will share some marketing insights through the lens of Africa!  You won't hear stories like this anywhere else.
Attendees of this webinar will learn how to:
Develop a marketing strategy that creates momentum before you try to figure out the right tools to use
Identify the gaps in your customer experiences that is hindering repeat business or holding your customers back from referring you
Narrow your marketing focus to capture ideal customers (and learn how to FIRE some of your least favorite customers . . . yes, fire them!)
Create content and marketing materials that educate and build trust with your intended audience
Learn to generate leads from the 3 most common sources (and learn to correct the #1 advertising mistake businesses make)
The secret to closing the deal without feeling like a used car salesmen (my apologies to those in that industry, but you know what I mean)
How to manage your marketing, including your social media, so that your customers keep coming back and tell their friends!
How much would you pay to learn this? $5000?  $1500?  $200?
Well, it's doesn't really matter, because you get all this in 60 minutes for FREE!
Click on the link below to reserve your seat on this webinar