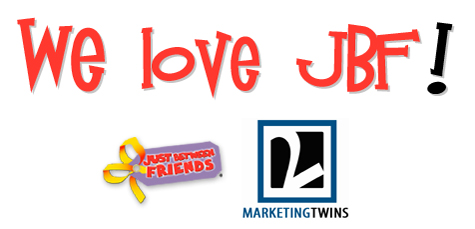 It's true – we love JBF!  For those who we've worked with in the past, you might have heard us say that we have a long history with JBF.  From knowing Shannon in college at ACU to both of us watching our wives take advantage of some great deals at their favorite JBF Sales in both Grapevine/Mid Cities and Fort Worth.  We've seen the hard work that all of you put into your sales and we've loved the relationship between us since we spoke at the National Conference in Scottsdale back in 2009.
We want to make sure all the JBF owners are aware of some special pricing we are offering on our custom Facebook page offerings.  We have 2 offerings that we will believe will help meet any budget.  However for all JBF owners, we are offering a special 10% discount for our Basic package and 15% discount for the Advanced level.  With this unique discount, the following pricing will be in effect:
Basic Level – $225 plus tax (a $25 discount)
Advanced Level – $425 plus tax (a $75 discount)
In addition, we know that many JBF owners would like their custom Facebook page graphics to match their upcoming sale graphics.  So, we've created an "Update Fee" of only $150 (plus tax)*.  This fee allows you to keep all the tabs and "buttons" from your previous sale, but we will update the graphics and text to match your upcoming sale information.  All we need is between 30-45 days to make the updates so plan accordingly.
If you are unfamiliar with the custom Facebook pages we've done in the past for other JBF owners, here is a list of some of the JBF sales we've worked with over the past 15 months:
If you want to visit with any of these owners about our level of service, we invite you to do so.  We want to help you make your Facebook page STAND OUT AND BE UNIQUE!!!
Sound exciting?  If so, reach out to us directly via email: jbf@marketingtwins.com and one of us will contact you to get the conversation started.
Thanks!
Randy & Donny Vaughn
The Marketing Twins
The Marketing Twins on Facebook
The Marketing Twins on Twitter