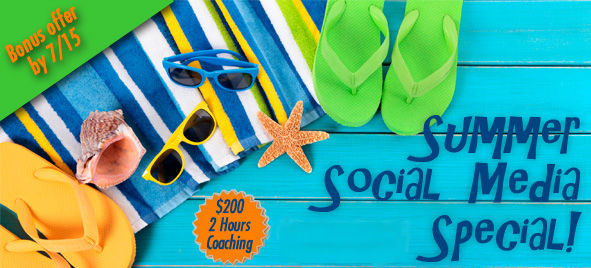 Our agency can help your business discover the potential of social media. But your business or organization is unique, so we have created various ways in which we might assist you:
Virtual Coaching (2 Hours) – **Summer Special**

If you are new to social media, Donny or Randy will walk you through immediately practical strategies on using social media. You'll learn the answer to the common question, "what do I post on social media?" and you'll walk away with a better understanding of how you can personalize social media for your organization. Need to know more about Facebook? Don't understand Twitter? Need help understanding how using a blog or YouTube can help? All of these topics are available to discuss in our coaching sessions.
2 Hours of phone coaching can be done in one single phone call or 2 one-hour calls, whichever you prefer
$200 for 2 hours

**

$135 for 1 hour

**

Summer Special pricing good through 8/15/13

BONUS: If you sign up for the $200 for 2 hours special by 7/15, we'll add an additional hour for free!

COMPLETE THE FORM BELOW TO GET STARTED !!
In addition to our Summer Special, we offer additional ways to help you with social media. Click here to learn about those additional options.