Responsive websites look great on ANY device!
(see sample below)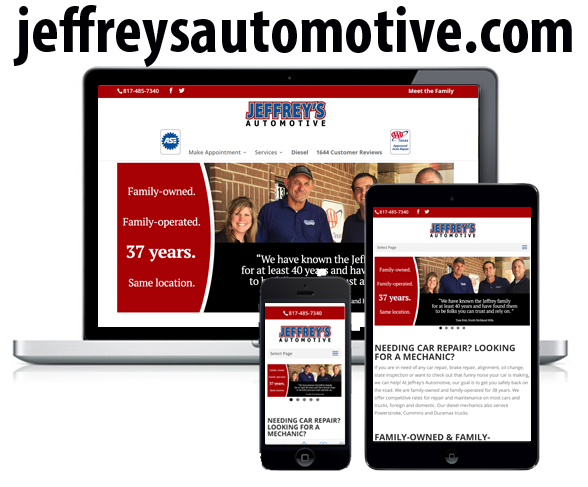 5 TIPS:
While we could have come up with a list of 25 or even 100 things about your website, we believe these are 5 very important tips to consider about your organization's website.
1. RESPONSIVE:  In today's communication-crazed culture, your website should respond beautifully AND functionally on any device, whether a large desktop, a 17″ laptop, an iPad or a handheld mobile device. If your prospective client has to pinch and zoom to be able to read the text, you have lost your opportunity to showcase the daily evidence of every claim you make on your website. Be sure and put the social media icons clearly visible and in multiple locations. Especially on high traffic pages (about, product pages), encourage people to follow you.
2. TARGETED AUDIENCE:  Since you first launched your website (5, 10, 15 years ago?), it has grown into a grand repository of information. Most likely it has been so stuffed with data through the years that there is some outdated content on your site. But if you have a chance to start fresh with a new website (see our offer at bottom of page), make sure you know who your audience is! Your website (especially your home page and top visited pages) need to be solely focused on NEW PEOPLE/CLIENTS and MEETING THEIR NEEDS.  Make sure your content is addressing needs, problems, pains, frustrations or fears.
3. TELL STORIES:  In marketing your organization, consider your "macro" story. This is your mission, your brand and your big-picture selling point to future clients. In your macro story, focus on how your product/services is meeting the needs of your clients. Tell the story in either a blog post or maybe a video. Screen shot a review online which shows evidence of a "true story" where your product or service meet the needs of the individual.
4. OFFER CLEAR ACTION STEPS:  Drive the viewer of your website to 3 things: awareness, commitment, and _. Do they KNOW who you are? Can they learn stories about your organization. After they've done their research, drive them to making a transaction once they have earned your trust. But don't forget that other group. These are the people who know who you are but aren't quite ready to make that transaction commitment. For this group, we need to get them to LIKE you. What else can they learn about you? Read more blog posts with interviews? Read more testimonials? Drive them to this content so they move to that trust level where a transaction can occur.
5. INTEGRATE WITH SOCIAL MEDIA:  Make it super easy to find your social media buttons. Think of a dating metaphor. You meet someone and you want to follow-up. You get their contact information so that you can stay in touch. Beyond your website, your perspective client wants your information and your social media which can be the next step in the relationship! Social media only helps in nurturing the relationship with new clients. And of course, on your social media channels, you need to always look for ways to drive viewers/followers back to your (responsive) website.
NEXT STEPS:
It's time to take your website to the next level without breaking your marketing budget in the process. Some companies will charge you over $15,000 with very costly multi-year commitments just to update your website. We won't do that – plain & simple! Contact us for a quote and make your website mobile-friendly and responsive.
HOW LONG DOES IT TAKE?: We cannot guarantee you a timeframe until we have a more in-depth conversation with you about your needs, timeframe and several other contributing factors. However, it has been our experience that when clients are expeditious in providing us the content in a timely manner (text, media, etc.), we can often deliver a new website within 60-90 days. There are numerous variables, but for example, if you signed up in May or early June and we all worked together really hard over the early summer, there is a high probability of giving you a new website before Labor Day if not sooner!

PROMO CODE:  If you have a promo code to use, be sure and enter it in the last entry on this form under "Promo Code / Question / Message / Inquiry" or you will not receive your discount.