Duct Tape Marketing: Simple, Effective & Affordable Marketing
The perfect marketing plan for your small business!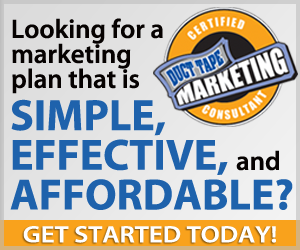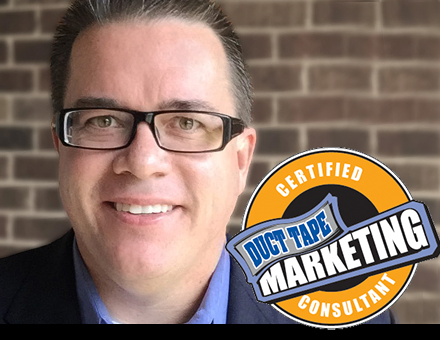 GET A FREE 30-MINUTE PHONE CONSULT:
Install Your Own Complete Marketing System

Working WITH you, you'll learn the principles and implement the practices of marketing simply, effectively and affordably. We work — together as a TEAM — through a carefully chosen program of highly practical, 'street-smart' marketing topics based on the best-selling book by John Jantsch — Founder of Duct Tape Marketing:
Session 1: "Defining Your Ideal Client"
Session 2: "Standing Out from The Crowd"
Session 3: "The Marketing Hourglass™"
Session 4: "Using Content To Attract Ideal Clients"
Session 5: "Managing Your Presence on The Web"
Session 6: "Winning at Local and Online Search"
Session 7: "Advertising That Attracts"
Session 8: "Increasing Your PR and Referrals"
Session 9: "Putting It All Together"
Each session is ACTION-ORIENTED. You'll have material to read, watch and process. You'll also be HELD ACCOUNTABLE for completing assigned actions. By the time you've completed all nine (9) sessions, you'll have built a comprehensive Marketing Plan for your business that you'll be implementing and using to generate more revenues from your products and services.
SIGN UP ABOVE AND LEARN MORE WITH A FREE 30-MINUTE PHONE CONSULT!
Our Services: How You Can Work With Us
Download our FREE Reports!
Connect with us on Social Media!