The Marketing Twins are proud to be affiliated with Duct Tape Marketing – Randy is an authorized Duct Tape Marketing coach (since December 2007).  Serving all communities in and around Dallas, Fort Worth and throughout North Central and West Texas, we are marketing coaches who install marketing systems for small businesses of all sizes, kinds and locations.
Our ideal client:
we enjoy working with the business owner or one level down with the person in charge of marketing decisions
we also work with non-profit organizations, Christian ministries and churches
if you are a Christian organizational leader seeking to understand marketing as the solution to doing GREATER THINGS, we need to talk!
we seek to install a system for a business or organization that is finding themselves "shootin' from the hip" on all marketing decisions
we make it our goal to give you a system that is simple, effective and affordable!
If you are in the Fort Worth – Dallas area, we'd love to meet with you face-to-face, or meet you at one of our area seminars, workshops or networking events (see our speaking schedule for the DFW area).  But if you are a Christian business owner anywhere in the country, we'd love to get you involved with our virtual group marketing coaching programs.
Most Duct Tape Marketing coaching programs range from 4-12 weeks (most of the time 8-weeks) – investment in an 8-week program will typically cost $2400 – but watch our COACHING page for special promotional opportunities.
Download a Duct Tape Marketing coaching brochure to see some of the content covered!
-Randy & Donny
*NOTE*
———————————-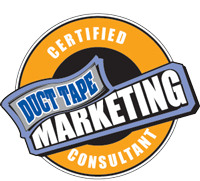 Randy is one of the Marketing Twins at 1429 Creative – and is the only Certified Duct Tape Marketing Consultant in North Texas and West Texas. In addition to specializing in consulting with Christian schools, Randy and Donny also have helped numerous non-profit organizations and a host of small- and medium-sized businesses.
DOWNLOAD FREE REPORT – click link to the left to get your complimentary copy of "7 Steps to Marketing Success" – a Duct Tape Marketing classic and an ideal model for Christian schools!
If you would like to understand what we offer in Duct Tape Marketing, you can visit our small business website and watch this archived recording: "Duct Tape Marketing – 7 Steps to Small Business Marketing Success."
For even more information on Duct Tape Marketing (and to understand more of that crazy name) visit: http://www.ducttapemarketing.com/consulting-programs