There are 2 ways to pay your $99 group discount down payment:
BY DEBIT/CREDIT CARD: We use PayPal to process all our debit/credit card payments.  However, you don't have to have a PayPal account to process this style of payment.  This is the quickest method of paying and you will receive a confirmation from PayPal instantly.  (We'll send you one too!)
Click the icon below to pay now*: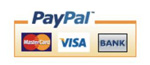 * Your PayPal receipt will indicate payment is made to 1429 Creative, our parent company.
BY CHECK: Put a check in the mail to us now so we can count your page towards meeting the goal.  All checks must be postmarked by January 24th to ensure payment is received by the 1-31 deadline.
Make your check payable to:  The Marketing Twins
Mail your check to:  The Marketing Twins, PO Box 821003, Fort Worth, TX  76182
* * * * *
FREQUENTLY ASKED QUESTIONS
1.  Ok, so what happens if the group discount goal is NOT met by the deadline?  What happens to my $99?

We anticipate meeting the group discount goal and are excited about offering the 50% discount to JBF owners.  However, in the event the discount is not met, we will credit your $99 down payment toward your custom Facebook page.  We will work with you to offer you competitive pricing so we can move forward to creating you a custom Facebook page that helps you stand out from your competition!
2.  Is the Group Discount option in addition to the discounts offered in Plan 1, 2, or 3 or is it separate?

The payment plans 1, 2, or 3 are separate from the group discount option.  In past promotions, we offered the immediate discount plans and they proved successful in giving JBF owners an opportunity to save some money but also the chance to get started immediately on customizing their Facebook page.
The group discount option is a new incentive for this promotion.  If you want the opportunity to earn the highest discount possible, then consider the group discount offer.  We will not begin working on any custom Facebook pages (short of an email to you about some initial things you can begin working on) until the promotion ends.  If timing is an issue with your next sale, take that into consideration and you may want to consider choosing Plan 1, 2, or 3 to get started earlier.
3.  Why can I not share this on Facebook?

This promotion is unique to JBF owners and is not available to other business owners or non-profit organizations.  We want you to share this promotion with your fellow JBF owners in emails, phone calls, in your JBF Yahoo Group, etc.  You can share it within Facebook but please make sure you send it by private "message" so you can limit who can see it.  If you post it on your wall, then others will see it but they will not be eligible for the offer and this only creates the possibility for confusion.
4.  Where can I keep track of how we are doing towards the goal so I'll know if I'm going to get the 50% discount?

On the promotion page (click here), you can scroll down to you see Step 3 where you will see the update on the goal.   We will keep track on a daily basis so you can encourage others to get started to help reach the goal.  We've also placed a countdown clock to keep everyone aware of the pending January 31st deadline … it will be here before you know it so act now!  The key here is to share, share and share again!!
5.  I don't like using credit cards but I still want to mail you a check for the $99 down payment for the group discount option.  How can I be assured that my check arrives on time to meet the January 31st deadline?

All checks must be postmarked by January 24th (a week before the deadline) to ensure payment is received by the 1-31 deadline.   This is the only way we can ensure the payment is received on time in order to meet the deadline.  If you are concerned about this, consider using your debit/credit card to get an instant verification.
6.  So this group discount thing just doesn't sound like something I want to do.   Can I just get a good discount without having to do the whole "group" thing?

Absolutely!  We are offering 3 plans that you can choose from based on when you decide to pay.  The quicker you pay, the larger the discount – up to 35%!!  If you want to get started immediately, simply contact Donny and he'll walk you through the next steps.   By choosing one of these plans, you'll be able to get started working on your custom Facebook page right away without having to wait until after January 31st when the group discount plan deadline ends.  Did we mention that you have the opportunity to save 35% if you pay by January 12th?  If you missed that deadline, you can still have 20% if you pay by January 20th or even 10% if paid by January 28th.   All payments made by check for Plan 1, 2, or 3 must be postmarked by the appropriate deadline date to receive the discount.
7.  If I participate in the group discount plan and I pay my $99 down payment, when is the balance due?
On February 1st, after group goal has been met, you will receive an email from Donny announcing the next steps in the process.   You will decide at that point which option you desire to have for your custom Facebook page (A or B).  Once that decision has been made, your balance will be due immediately.  All balance payments must be made or postmarked by Friday, February 4th.
8.  Is this really the only promotion you are offering JBF owners between now and July?
It is and for several reasons:  1) We know that many of you will begin to be swamped with preparing for your spring sale and you'll be more concerned about registration, bar coding and volunteer coordination than customizing your Facebook page with The Marketing Twins!  We want to help get this done early before things get too busy   2) We have several projects starting up in the spring which will occupy a great deal of our time   3) If you choose the group plan, you may wish to go ahead and purchase one for your spring sale and one for your fall sale – both of which qualify towards to meeting the group goal.
If you are wanting to update your custom Facebook page, now is the time!