Let us help you with your social media
(this is a long page so use the navigation bar on the side to help guide you)
What is your biggest social media challenge?
Is it trying to understand and keep up with all of the latest social media tools? Is it trying to determine the best way to use social media to reach new and existing customers? Or maybe it is simply trying to find the time to manage all of the social media resources you need while trying to run your business at the same time.
As marketing consultants, that is where we can help. We talk to small business owners all the time who fall into one of two categories:
They have no idea what they are doing or how to use social media effectively
They have no time to do this themselves and want to hire an expert to handle this for them similarly to how they handle their tax preparation.
That is where we come. We offer solutions for both – Social Media Coaching and Implementation assistance. We invite you to click on either of the options below to find out how we can help you with your social media.
Our agency can help your small business discover the potential of social media. We have created various ways in which we might assist you. Check out these various social media coaching options:
One-on-One Coaching – Level 1 (3 Hours – $750

)
If you are new to social media, Donny will walk you through immediately practical strategies on using social media. You'll learn the answer to the common question, "what do I post on social media?" and you'll walk away with a better understanding of how you can personalize social media for your organization.
One-on-One Coaching – Level 2 (6 Hours – $1195)
A complimentary audit of your existing social media presence
You will receive everything listed in Level 1 above including 3 additional hours of social media coaching
Social Media Workshops (range from $2000 – $5000)
On-site (at your business or at a pre-determined conference area with access to Wi-Fi and projector).
9:00-4:00 (with a working lunch) affords you and your staff a full day of examining your social media strategy and implementation plan
Workshop can be spread out over multiple days if needed
1/2 day workshops are also available (fee negotiable)
---
Select the option that works best for you by completing the form below.  Once we have received your information, we will contact you to get started down the road to social media success.
DON'T HAVE TIME TO DO THIS YOURSELF? WANT TO HIRE US TO HELP? BE SURE TO CHECK OUT OUR IMPLEMENTATION SERVICES BELOW:
Small business owners are often either too busy to implement an effective social media strategy or they simply have no clear understanding of how social media works. That is where we come in.
We have put together two social media options for you to choose from: Basic or Premium. In each option, we will assist you in posting content from your business in the various social media channels. We will meet with you on a regular basis to determine the content that is critical for your customers to know about. If we help you in posting video content, we will need you to supply us with the video content. We do not create original video content for your business unless we choose to do so. Our goal is to help create a social media presence for your business that will attract new customers and to get them to know, like and trust you.
So, what is the next step? You will see the 2 options listed below and the details of each. Find the option that is right for you and complete the form to indicate your interest. There is even a "custom" option on the form in case you are needing to work with us on setting up a custom implementation option that fits your budget and your business needs.
See the options below: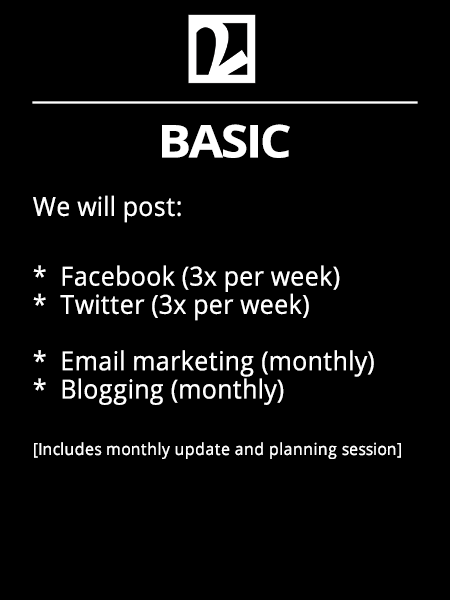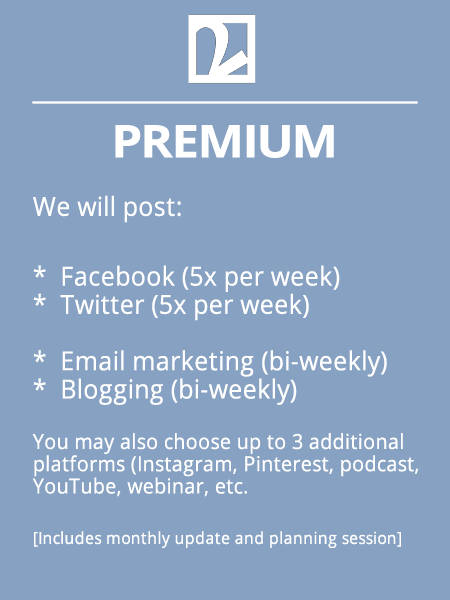 Our Services: How You Can Work With Us
Download our FREE Reports!
Connect with us on Social Media!