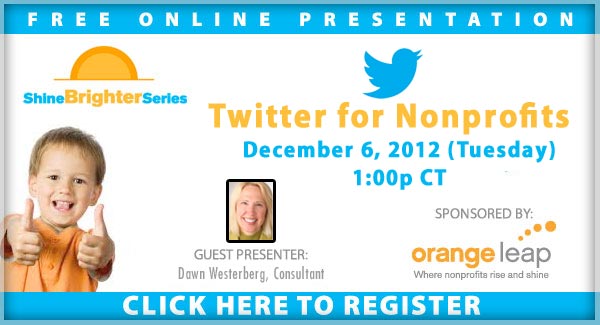 We are excited to announce a tremendous resource for our friends in the nonprofit world – "Twitter for Nonprofits" as part of the SHINE BRIGHTER SERIES sponsored by Orange Leap.
Our fellow Duct Tape Marketing colleague Dawn Westerberg, who was recently named as one of the top 75 women on Twitter, will be presenting.
Often the most misunderstood and underused social media platform, Twitter is an incredibly powerful way to build relationships as well as amplify and accelerate your nonprofit's message. This session will explore the ways nonprofits can benefit from a regular Twitter presence.
Attendees will learn:
Who to follow and how to grow your followers
The power of #hash tags for key words, events and chats
Free tools for more efficient participation and helpful analytics
How to use Twitter lists to key in on critical audiences such as donors, media, other nonprofits, and influences
Bonus – how to get more online presence through your business partners
Orange Leap sponsors the Shine Brighter Series, a regularly scheduled online presentation on a variety of topics especially for nonprofit organizations. There is no registration fee for these presentation, but you must register to receive your access.