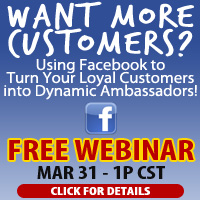 At the end of this month, we will offer another FREE WEBINAR on the consistently hot topic of Facebook.  It is by far the question we get asked the most.  Either, "do you have to be on Facebook to success in business?" or "how can I use Facebook to drive sales?"
We'll answer both of these questions and more:
Why you need to use Facebook for business
How you DON'T need to use Facebook for business
What makes an ineffective Facebook strategy
How to engage customers better, and ensuring that you have future communication with them
How to showcase all of your expertise and experience without selling anything
Why you need to do 3 simple things (at least) to make your Facebook page actually work for you
When you need to post on your Facebook page, how often, and about what topics
We will conduct the FREE webinar on Thursday, March 31, at 1pm CST.  Registration is required, so please click on the link below to register.

Click here to Register for this Webinar
.
.
.