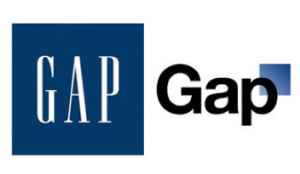 This past week, Gap announced that they were changing their logo from long-revered blue box to a new logo.  The fan reaction was negatively against it, that Gap soon announced they were ditching the "new" logo and returning to the familiar logo that is recognized worldwide!
So . . .
The Marketing Twins have wrestled with having a new logo ourselves.  To be honest, we have never really had a logo.  Let me explain some history.
We launched our marketing coaching and consulting venture as "1429 Creative" because it has special meaning to us (read our story here)
Because "1429 Creative" was branded in a certain way (professional), we wanted to join the blogging community in a much less formal and more casual professional manner.  It wasn't long after starting our venture that people would refer to me and Donny as the "Marketing Twins" – we never really intended that to stick but it did.  Every where we'd go, that was more memorable than "1429 Creative" (although we kept it and still use it)
We named our blog as the "Marketing Twins" – this is where we tried to share our twin personality as a supplemntal resource to our other "1429 Creative" website
When naming our blog the "Marketing Twins" – it seemed appropriate at the time to choose a look that reflected our casual personality styles to work alongside the more professional (more formal) website – so therefore, we found a stock image of an illustration of twins and I modified the image to what was soon visible on most anything we did with reference to the "Marketing Twins" – we liked it, thought it was whimsical and informal, but soon grew weary of it and received some feedback that it made us look less professional than we were (see image below)
It didn't take us long before we learned that more traffic was coming to the "Marketing Twins" blog than was ever showing up at the main site
So we soon began dismantling the "1429 Creative" site and moved over most of our pages to our "MarketingTwins.com" site – so now it is more than a blog – it is really our main hub of dynamic information
By the way, we re-launched "1429 Creative" as a church communication and ministry marketing blog, but we have made the decision to not maintain that site, so it will soon go away
As we start the process (albeit a SLOW process when we're busy working on clients' sites and marketing projects), we will soon be rebranding ourselves, including a new look for this website.  So we are looking for a new logo.  As you can see at the top of the page, we are rolling out a trial logo and open to feedback.  We want to hear from you – so join this discussion on Facebook that began earlier this week.  Comment, contribute, and criticize!