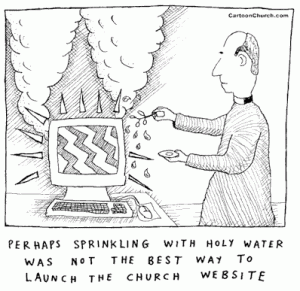 Church leadership – pay attention to this!  Love this podcast interview from @evangelismcoach:
The best quote comes at the end of the interview (about 40:30) as to WHY churches should use press releases:
"Churches do many more wonderful things than most people realize. Press releases aren't just about helping a church increase its attendance or increase its contributions.  When you publicize the wonderful things you are doing for the world, you are helping the church at large – because you're helping change the image of what it is that Christians do.  Alot of people just don't know that and we aren't effective enough at telling."
Listen in as Richard Hong, pastor of First Presbyterian Church in Englewood NJ shares:
on different types of press releases
what makes for useless press releases
how his church distributes press releases
How they get free professional videos made
How to effectively position your press release in community newspapers.
The nuts and bolts of formatting a press release for your church.
Finally, he wraps it up with some specific action steps you can take if you want to develop a press release strategy for your church.
Whether you are a church, nonprofit, or even a small business, you will learn something from that 40-min recording!  (yes, I learned some things, too!)
Here's a couple of posts we've done over the years on how small businesses should use news releases as part of their marketing strategy (note: on one of the articles, I link to Grazr.com which is no longer available).
-Randy