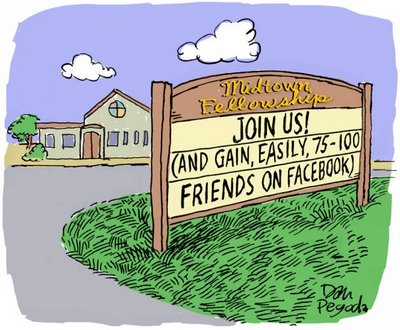 While Donny and I spend most of our time helping small businesses install practical and affordable marketing systems, we do have a love for non-profits.  We do some unique work in the area of marketing private Christian schools, and we love to consult with churches on how to engage for effective communication.
Here are a few links that might help you (if you are a pastor or minister) or something you can pass on to your church leadership.
Church marketing:  We have written alot on this site over the years about churches and non-profits and their marketing – here are all the archived posts on this topic all in one place
We also have written about church marketing on another site, as well, so check out that blog (it's stagnant right now, awaiting a makeover)
James Nored from Missional Outreach Network has a great post "How to grow your church 20% through Facebook & Online Social Networking"
-Randy
**don't you just love that picture in today's post?  LOL
**if you think this could help, please use the "SHARE THIS" button below to post to Twitter or Facebook!