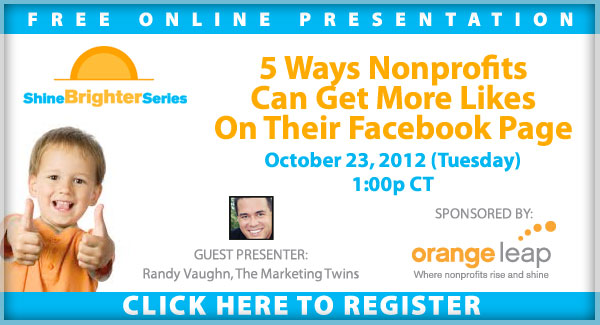 Excited about presenting "5 Ways Nonprofits Can Get More Likes on Their Facebook Page" for nonprofits in the SHINE BRIGHTER SERIES sponsored by Orange Leap.
Many nonprofits may have launched a Facebook page with the hope of securing thousands of raving fans who would spread the word to a network of tens of thousands of friends.  Many nonprofits dreamed of a steady flow of donations and volunteers, IF their Facebook page could have just "gone viral" on Facebook.  But after a surge of LIKES in the beginning, you are stuck at the same number with no real growth to speak of.
It's time to understand how Facebook works.
Attendees of this webinar will:
Understand a long-term strategic vision for using Facebook
Master the 3 most important things nonprofits should be posting every day
Discover 5 creative ways to increase the number of LIKES without having to pay for them
Find out how Facebook ads can actually work (and when and when NOT to use them)
Learn about a powerful way that Facebook can help you showcase the stories and vision of your nonprofit
Orange Leap sponsors the Shine Brighter Series, a regularly scheduled online presentation on a variety of topics especially for nonprofit organizations.  There is no registration fee for these presentation, but you must register to receive your access.