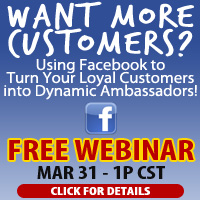 FREE WEBINAR:  Join us on Thursday, March 31st at 1:00pm CST – click on ad above to register!
Related to this upcoming webinar, in marketing you need to learn one thing today:  stop selling!  Here's a couple of reasons why:
Sales is impersonal – if you are thinking about "sales", then it will likely come across to your customer.  It will come across in the form of self-promotion and usually is accompanied by very-little-listening or education.  Typical salespeople are out for a quota, to meet a sales goal, or to make a buck.  Believe me, you don't like to be treated like that as a customer.  Don't treat your customers that way either.
Sales is transactional – often, salespeople think only as far as the cash register.  You have to think about the value of your customer as a repeat customer, so your service must compel them to return.  As well, when your sales efforts focus only on the "cha-ching", you'll miss the grand opportunity to create loyal ambassadors who talk about you with their friends at church, over coffee and on Facebook.
Here's 2 articles I think can help reinforce my point:
Fellow Duct Tape Marketing Consultant, Joe Constantino, shares a very practical article, "Educate Don't Sell" – and despite his very strange accent (just kiddin' Joe), his content is spot-on!
Last year, I wrote a provocative article that roused the angst of a few friends who are in sales – I think you'll understand when you read the article what I mean when I confess, "Why I Don't Like Salespeople".
Marketing is all about getting people with a specific need to know, like and trust you (that's a cool definition by John Jantsch of Duct Tape Marketing!)  When that happens, and as your customers try and buy from you, you are well on your way to creating customers who REPEAT and REFER – these are your very best loyal ambassadors!
-Randy
* Don't forget to sign up for the free "Facebook for Business" webinar on 3/31!