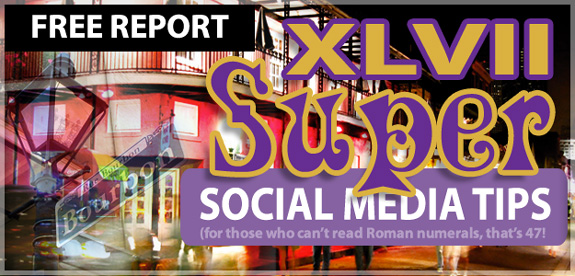 As the Ravens and 49ers head to New Orleans for the Big Game (# H a r B o w l ), we announce our annual list of Super Social Media Tips.  Corresponding to the famous Roman numerals for this annual football game, this year there are 47 ideas!  But as we caution on the front page of the e-book:  "Please don't try them all at once or you will go crazy.  Pace yourself."
This year's list includes traditional favorites such as Facebook, Twitter, Linkedin and YouTube but also includes Pinterest, Instagram and Twitter's new Vine iPhone app.  #46 is my favorite new tool – it keeps my content consistently in front of my audiences, but not all at once.  What is it? 
Download the report below and find out!