Earvin Johnson.  Orlando Smith.  Dwayne Johnson.  Joe Jackson.
These names mean anything to you?  Sure if you are a sports fanatic, you might recognize a few of them.  But let's add their more common nicknames and see how you fair:  Magic Johnson, Tubby Smith, The Rock and Shoeless Joe.  Now we're onto something.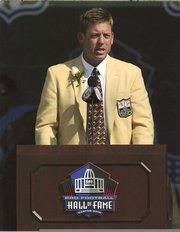 The same rule applies to your business or organization's Facebook page.  When you first launch your Facebook page, your page is given a name or URL.  But your clear goal should be to reach the coveted 25 "fans" or "Likes".  Why?  Because that is the minimum number you must have in order to create your own short URL or "username" as Facebook defines it.  But think of it as your page's nickname.  For example, Troy Aikman (Pro Football Hall of Fame Member, former Dallas Cowboy great and one of my all-time favorites) recently announced on his Twitter account that he launched a Facebook page.
Here is his current page name:  http://www.facebook.com/pages/Troy-Aikman/212919242056250.
Easy to remember, huh?  I would love to hear Troy announce that URL on the next NFL broadcast he does in the fall (assuming there is a season … oh wait, that's another topic!).  What should Troy do?  Well, it's easy.  Troy should go to http://facebook.com/username (or anyone who has Admin rights to that page).  From there, Troy could create a username for his page like facebook.com/TroyAikman or facebook.com/TroyAikman8.   By doing so, he's made it extremely easy to tell people how to get to his page.  This new shorter name fits well on a business card, a banner and is easy to announce to all his fans.
So have you done this yet?  Are you making it EASY for your customers, donors or fans to find you?  Once you have 25 "likes" to your page, there's no reason not too.   Just remember that once you select your name, it cannot be changed so choose wisely!!!
Thanks Troy for letting me offer you this little pointer – it's the only chance I'll ever get!! 🙂  Hope it helps!
-donny-
Photo: Courtesy of the official Troy Aikman Facebook Page (the URL is too long currently to disclose!)