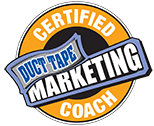 Last week, I got to spend 3 full days alongside 30+ Duct Tape Marketing coaches and consultants in Kansas City, MO where DTM was first launched by John Jantsch.  (read full press release, "Fort Worth Duct Tape Marketing Consultant Optimizes Small Business")
Curious about the name "Duct Tape Marketing", many people ask me about it.  You can read this story of Duct Tape Marketing on fellow Australian Duct Tape Marketing Consultant, Richard Duffy's site.  It's a simple metaphor that means marketing should be "simple, effective and affordable just like duct tape."  ( . . . plus it replaces the boring alternative like "John Jantsch Marketing".)  Don't examine or critique the metaphor beyond its simplicity – it has become for hundreds of thousands of people all over the world the best source for small business marketing advice.
I'm thrilled to be a part of the organization since 2008.
I've certainly blogged about Duct Tape Marketing on this blog, so I wanted to spend today talking about what's in it for me:
COMMUNITY – Donny and I are a team – but we're not a full-size marketing agency with dozens of creative folks to bounce ideas off of, so it's helpful to have a community of marketing consultants on whom we can call on for advice, counsel or collaboration (there are 50+ DTM consultants worldwide . . . more on that below).
COLLABORATION – in addition to weekly (sometimes daily) interactions on our internal project collaboration forum (where we tons of ideas and share tools, tips and resources), we just spent 3 days face-to-face together talking about working on join projects together, brainstorming over lunch with fellow DTM consultants about joint coaching seminars, and talking about innovative ways that we can help every small business in America!
DIVERSITY – I need to correct #2, because we share a common vision to impact business around the globe!   We have Duct Tape Marketing consultants outside of just the United States, but in Canada, Australia, U.K, Hungary, Bahrain, and Columbia! That's a wide variety of experiences with small businesses from a variety of industries and cultures.  That rich diversity helps all of us in the network to coach better, offer higher quality consulting and create more innovative strategies to help you!
STRATEGIC PARTNERING – outside of our local strategic partners, Duct Tape Marketing is approached by small business suppliers all the time to become exclusive vendors for the Duct Tape Marketing organization – most recognizable is the most recent announcement that Constant Contact is now the preferred strategic vendor of Duct Tape Marketing for delivery email marketing services. When I'm a solo marketing guy, it's not easy to partner up with such nationally-recognized vendors.  But being a part of the Duct Tape Marketing network affords us exclusive access to provide unique benefits to assist our small business and non-profit clients.
There are probably more than just four reasons, but I wanted to give you a few of the reasons we remain committed to Duct Tape Marketing.  We look forward to finishing strong in 2010 and helping many small businesses in 2011 install this very simple, effective and affordable small business marketing system!
-Randy
A shameless promotional plug:
You can launch a FREE 60-Day trial with Constant Contact by clicking this link.  They do not even require a credit card upfront to get started!  While there are a plethora of email marketing services, we're excited about partnering with the obvious national leader in email marketing services.
** FOR FUN:  READ THIS GREAT ARTICLE FROM DELIVER MAGAZINE ALL ABOUT DUCT TAPE MARKETING (Click on image to read PDF) **