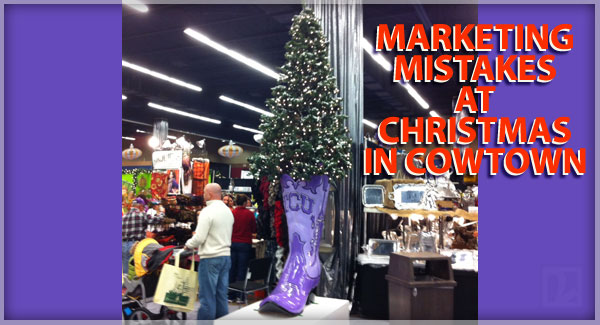 The annual fundraising fun of "Christmas in Cowtown" is a favorite for me and my wife.  When we can, we choose it as a "date" place and peruse the Will Rogers Exhibit Hall for hours and hours looking at vendor booths galore (while we didn't spend thousands of dollars, we did score some early Christmas gifts for the kids and one Christmas decor "splurge").  It's no doubt that the annual event of Fort Worth's Junior League is a huge success.  The place was wall-to-wall people on the day we were there and I imagine every one who paid to walk the hall would come back again and bring a friend!
As a marketing guy, I'm always walking into events like this with a critical eye.  Some of the marketing mistakes made at this event, however, are also common among small business owners with brick-n-mortar locations as well  (if you are a prominent marketer at trade shows and big booth events, consider reading my article, "Preparing to Fail at Your Next Event".
Three of the biggest failures I witnessed from vendors were:
NO FOLLOW-UP CAPTURE – I recognize that some of the vendors make most of their sales at this event.  I applaud those vendors who drove in from across state lines to pitch their wares (and they were selling some amazing things).  But for many customers, this will be on the only time they see this vendor's stuff.  I saw a few vendors with clipboards on a table that read "Get Our Newsletter" and maybe only a couple who ever promote any social media presence.  This tells me that they are looking to capture the sale and not cultivate a customer.  An ongoing email campaign throughout the year, coupled with a consistent flow of high-value content via social media, and these vendors not only make a sale, but also ensure those customers return to their booth the following year.  Why not email all your past customers one week before announcing (with photos) the exciting NEW products that will be on display at the 2013 event in Fort Worth?  Why not drive customers to your website 6 months later with ideas for birthdays, weddings and graduations?  What about those many "window shoppers" (technically "booth lookers") who aren't loaded with lots of money but love to look.  If you connect with them 1, 2, or even 6 months later, you have the opportunity to remind them of your great products when they ARE ready to buy a special gift.  There's just too much time in between events to miss the opportunity to communicate throughout the year.
DULL LOSES – BLING & CUTE WINS – in a "meat market" event like this, differentiation wins!  It's one thing to talk about "a doctor is a doctor is a doctor" when you are comparing 2 or 3 dentists in the area.  But when you are literally competing for customer cash with 100 booths all crammed together, how you attract people makes a difference.   How your presentation looks to you set up in your garage is not a real barometer – you've got to imagine it next to the blinged-out store with whom you share a curtain.  Could you add music to attract or shiny bright lights?  I saw more than one booth that simply looked dull and I noticed most people rarely stopped to look.  But the booths that offered unique products were the ones that drew people into their 15'x15′ area.  And if we were representative of other shoppers, when we saw friends as we walked through the exhibits, word-of-mouth spreads about unique products that can't be found anywhere else.  What I call the "WOW" factor with other businesses, I would aptly name the "Ah, that's sooooooooo cute" factor!  (I can't tell you how many times I overheard a predominantly female shopper exclaim to her friends about the cuteness of a handmade outfit or custom Christmas decoration).  Your product, in-and-of-itself, may not be enough that it "sells itself."
POOR CUSTOMER ENGAGEMENT – oh, this drove me crazy!  I know it may be the 3rd of a 3-day event and the merchants are worn out, but when we would walk by a booth and the lone salesperson would be sitting in a chair in the corner texting or Facebooking on their smartphone, we rarely stopped or stayed longer than a minute.  The way you greet and interact with your customers goes a long way to make them feel one-in-a-million.  I guarantee you that hundreds (if not thousands) of customers would pass by these booths, but the merchants who stood out front, talked to us (not too much, but friendly engagement counts), and answered our questions – they gained the sale.  Making your customers feel like they are more than a sale is the key to great customer relations!
Congratulations to Fort Worth's Junior League for a fun annual event – and to all the vendors who did well.  Looking forward to another date with my wife next October already!
-Randy
* PS – below is a slideshow from Fort Worth's Junior League about Christmas in Cowtown: