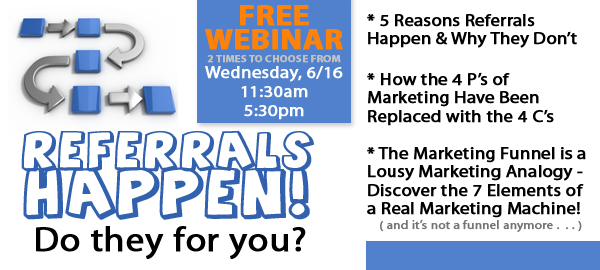 Developing A Referral Marketing System
Join us Wednesday for a FREE WEBINAR called "Referrals Happen!  Do they for you?" – click the ad above to see how you can choose between 2 different times according to your schedule.
You can see in the ad some of the things we'll discuss during this webinar – all for FREE! I think when you see what we've done to the "marketing funnel", you'll see how it all makes perfect sense.  I guarantee you'll leave the webinar with a list of practical suggestions to start trying out and implementing!
One of the things that makes any referral marketing system work is the word "system." Marketing, just like any other area of your business, benefits greatly when you can look at it in a systematic manner.  Instead of reacting, you need to script every aspect of your marketing effort.  According to John Jantsch:
A fully functioning referral marketing system includes each of the following components.
A clear definition of WHO makes a good referral
A clear definition of WHEN you are going to ask for referrals
A clear definition of HOW your referral sources should recommend you
A clear definition of WHAT you are going to do with that referral
A clear definition of WHY your referral source will recommend you
A clear definition of a PROCESS to turn each referral into a client
What's YOUR system?  Join us on Wednesday for FREE!

As DFW's only Duct Tape Marketing Coach, I can offer you a unique bonus!  This is a unique link offered by John Jantsch, creator of Duct Tape Marketing and author of the latest best-selling book, 'The Referral Engine" – John interviews some of the greatest minds in referral marketing!  This is worth your time to hear folks like:
Chris Brogan, coauthor of Trust Agents
Seth Godin, author of Linchpin
Guy Kawasaki, cofounder of Alltop
David Meerman Scott, author of The New Rules of Marketing and PR
Tony Hsieh, CEO, Zappos.com
Bob Burg, coauthor of The Go-Giver and Go-Givers Sell More
Marcy Shinder, vice president, American Express OPEN