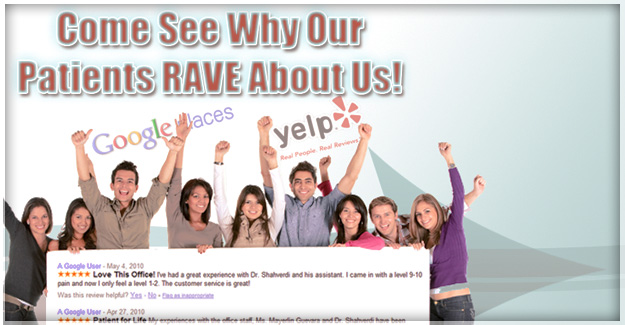 So….I'm on vacation and traveling several hundred miles by car.  I admit that I had twisted my back before the trip, but I guarantee you that the long hours sitting in the car, plus all the walking around sightseeing, almost brought me to my knees.
While I asked my brother-in-law (who had been to a chiropractor close to his work almost 45 minutes away), I decided to go to my next best source.
Wait – did you think I was going to say "Google"?
Well, technically, you are wrong.  I'm not really asking Google to tell me about the best chiropractor in the area.  Google is the search tool I use, but Google has never been to a chiropractor.  Who I am asking?
You.
If you've taken the time to write a review for this chiropractor, I'm seeking your opinion.  I'm putting ALOT of trust in what you say because I have no earthly idea about the chiropractors in the area.  His shingle out front looks no different than any other chiropractor.   I know of a good chiropractor in the Orlando area and another good chiropractor in Fort Worth, but while in Virginia?  Not a clue.
Look at the picture below (click on it to see an enlarged version) and you'll see that I totally ignored in a Google search:
TOP ADS – I hardly ever look, much less click around up in this top area because I know they are paid advertisements.  For the most part, when I'm searching Google, I go for the organic listings because I feel I am getting better results.
RIGHT SIDE ADS – again, you can see I totally ignored this area.   And yes, I even bypass one 5-star chiropractor who has 7 reviews.  Again, I like the organic listing because I figure anybody can pay enough money to get their listing in the advertising section.
TOP SEARCH RESULTS – if I'm researching for an article on a particular topic, I will start at the top of the organic listings.  But when it comes to a chiropractor, a dentist, an auto mechanic, I'm going straight to see what other customers are saying.  I'm looking for any "Google reviews"!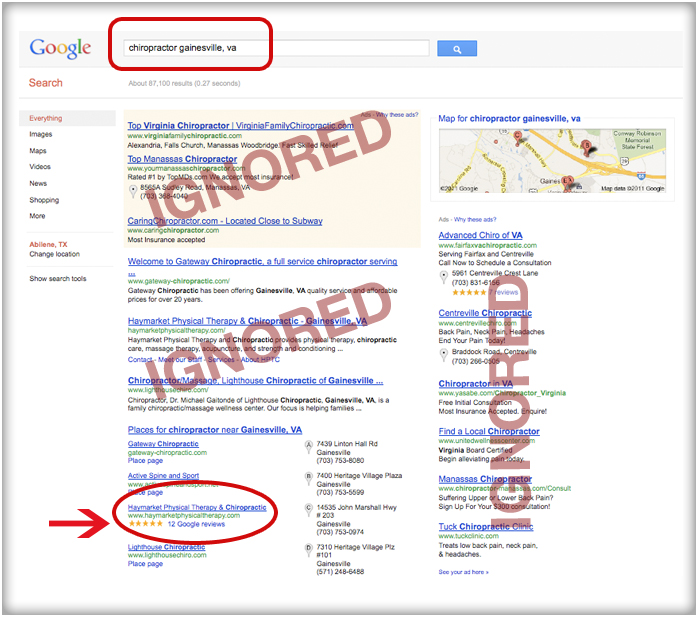 After reading such great reviews, I called and booked an appointment for a massage therapist at the Haymarket Physical Therapy and Chiropractic in Gainesville.  It was a great experience – and I've already written my review!
Businesses can't afford to ignore the significance of online reviews.  And while I believe in other 3rd party review sites like Yelp, GreatSchools for private schools, and UrbanSpoon for restaurants, Google has lately decided to place a premium on their Google Place Page reviews and list only theirs on search results (in the very fine print on each business' Place Page, you'll find "reviews from around the web" but most people won't look that far).
Start asking your best and happiest customers for online reviews – and I would direct them to your Google Place Page and have them look for the "WRITE A REVIEW" button to get started helping you spread the word to those searching for you online!
top image source: www.quickmeme.com