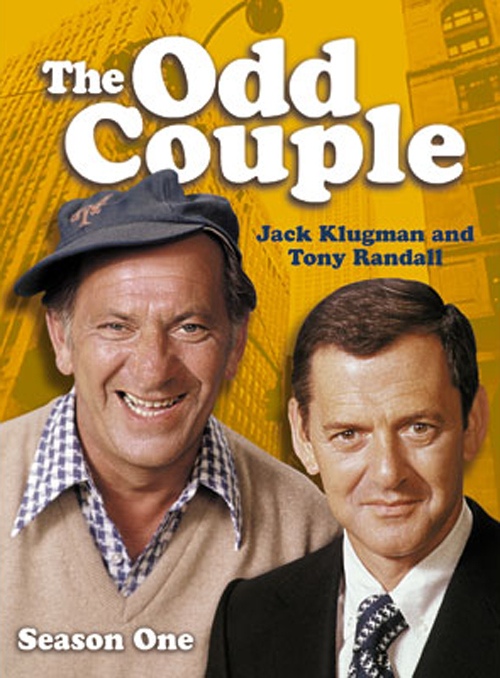 In his book, The Referral Engine, John Jantsch shares this story of an "odd couple" partnering together to reach local customers.
John writes:
"I was staying in Estes Park, Colorado, once and stopped at Coffee on the Rocks, which offered free fly-casting lessons every day out on the stream that ran behind the store.  The coffee shop received business each day as families came in to get the free lesson.  The lesson was held by a local fishing shop that also signed up participants each day for their guided fishing tours. (The coffee shop owner told me that some people come in just to watch!)"
What does a coffee shop owner and fly-casting company have in company?
The same local customers.
A few years ago a new-home seller I knew from church contacted me about helping him with marketing ideas.  We did a number of projects, but none that he was more excited about than the gift certificate you see below: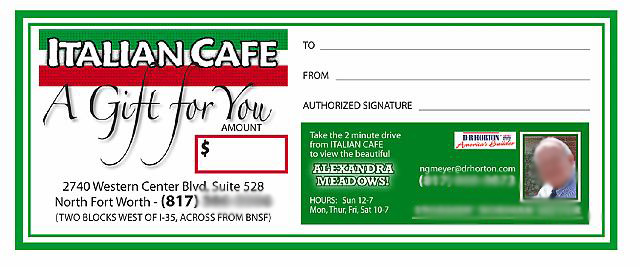 My friend was interested in ways to enhance referrals as well as partner with area businesses to reach the local area.  A new Italian restaurant had just popped up in the area (unfortunately, they have changed owners so this same cafe no longer exists).  So my friend went to the restaurant manager and asked, "would you like to have more customers?"  The restaurant owner replied, "yes, but what's the catch?"
My friend worked a deal to get partnership gift certificates at a signifcantly reduced rate, paying about 50-75% of the face value of the gift certificate.  In other words, my friend might purchase a gift certificate worth $50 but only pay $30 for it.  Then my friend would pass these out to hot prospects looking to buy a home in the area.  Introducing his potential home buyers to a great local Italian restaurant showed that my friend really knew the area and wanted them to feel "at home" in his neighborhood.  He was able to give a generous gift without it costing him a fortune.  The restaurant owner, while discounting his prices, loved the seats being full (especially for a new restaurant!) and the possibility of repeat customers who tell their friends.  Both saw it as an advertising tool and my friend got several new referrals from the restaurant owner who made sure my friend's business cards had a promiment place in the waiting area of the restaurant.
Tap into the needs of other businesses in the area and find creative ways to partner with them to reach the same local customers.
-Randy