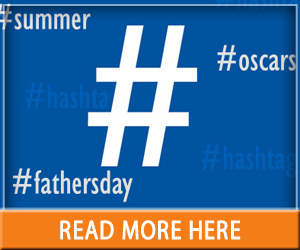 So you may have read the news yesterday when Facebook announced it was introducing "hashtags" to its offering.   It's part of Facebook's effort to duplicate the effective use of hashtags found in other social media such as Twitter and Instagram.
According to Facebook, the hashtags will be clickable but as of the writing of this blog post, we have not found that to be the case.  We expect that the hashtag launch is on a limited roll-out first and then will be available to the mass audience in additional phases.
So what exactly is a hashtag?  For alot of people, the hashtag is simply the "pound sign" used when entering a phone prompt when calling your credit card company.  Or for alot of us, the hashtag is the "number sign" to indicate a shortened version of an athlete's jersey number ( i.e. Jackie Robinson was #42).
The hashtag can most popularly be attributed to Chris Messina who first introduced the idea on Twitter back in 2007.  See the photo below to view the actually tweet (notice how he says "pound" since the term "hashtag" was not really very common back in those days):

Hashtags are searchable in Twitter for example.  We recommend conducting a Twitter search for example on #NBAFinals to see all the tweets regarding the Heat and Spurs matchup by those who have indicated that unique hashtag.  (Notice also how ABC and the NBA are actively promoting it!) Hashtags are a great way to categorize thoughts from a conference for example and is useful for either those who cannot attend in person or to review later by participants unable to attend every breakout session.   Here's an example of a search for the SXSW Conference from earlier this year.
And yes, we must identify that some hashtags have already been used within Facebook but they have not been "functional" to the audience.  It has served more as an additional thought or capturing of an expression such as a guy posting about his job and closing his Facebook status with #overworkedandunderpaid.  Or maybe a stay-at-home Mom posts photos of her kids and ends her update with #lovemylife.
For now, the functional hashtags within Facebook are not clickable.  However, once they do (and we feel confident they will), businesses and organizations can use them to help their audience more closely identify with their brand.  For example, a non-profit ministry that serves the needs of children could post a hashtag so their donors and volunteers could connect.   A business could post special deals with a #summerdeals hashtag or a specific coupon their customers could search Facebook for like #JuneCoupon.
The ideas are endless but we recommend (as always) to have a strategy in place before launching your hashtags within Facebook.
-Donny
If we can help you understand hashtags, Facebook or Twitter, set up a free social media consultation with me!