[This series of posts are simultaneously appearing in the Coleman Chronicle in advance of the planned all-day workshop with John Jantsch, founder of Duct Tape Marketing.]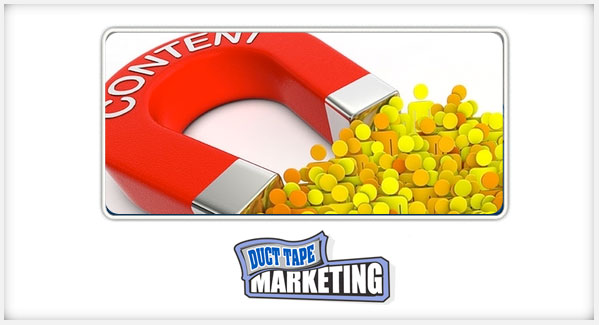 In this final article in this 3-part series about installing a simple marketing system, we explore various ways to educate and build trust with your target audience.
Most importantly: remember that your strategy and core message should lead, or your content will neither reach your ideal audience nor resonate with them. In a cluttered world, more generic advertising will only be considered an interruption by your target market and they will ignore it. Businesses in the past have tried to trick or coerce customers to buy. Manipulative marketing no longer works.
Creating content that educates and builds trust generates leads, nurtures them, and gives you a solid chance at converting them into customers. The content acts like a magnet to attract, and it showcases your expertise.
Creating and Curating
Some of the content you create will be unique to your brand. It is essential to have content like this so that it reinforces your marketing message and allows potential customers to get to know, like, and trust you. Other content is curated from strategic partners or from around the web. While this may not be as personal, sharing this content with your audience still shows you to be the expert in your field and this develops confidence with your audience.
Types of Content
In the offline world, printing FAQ sheets, guide books, or well-designed orientation packages gives you an edge on your competition. Your customer appreciates the information they learn and this goes a long way to cultivating customers who are fiercely loyal and who tell others about you. In the online world, creating content is as wide open as you can imagine.
Video content is extremely effective, although it can be costly or require some level of proficiency. In this day of Pinterest and Instagram, visual content (graphics and photographs) are essential to engage followers. For example, research shows that visual content garners more likes, comments and shares on Facebook than any other type of post.
Written content requires editorial and writing skills but is usually easy to create. Articles, blog posts, white-papers, reports, and e-newsletters explain, inform, and educate. Capturing audio testimonials with a smartphone or other device offers your target audience an opportunity to hear a customer's raving review in their own words.
Optimize the Content
There are times where you will distribute your content for free. Other times you may require an email address, mailing address, or other contact information to receive it. On a limited basis, some premium content may be offered for a small fee. Either way, as customers consume your content, look for ways to enlarge your offline and online databases. Even with content distributed at no charge, you can ask readers to sign up for an email newsletter, like your Facebook page, or call for an appointment. Optimize your content with specific calls to action.
When you install a marketing system, your strategy determines who you are speaking to, what they will hear, and will demonstrate clearly why you are the best solution. Your tactical plan and your optimized content will help your audience trust you. Growing your business is less about riding the latest marketing wave and more about installing a marketing system that helps you see more repeat business and referrals.
Go back and read Part 1 – where you learn about the importance of having a strong marketing strategy.
Go back and read Part 2 – where you explore the tactical side of an effective marketing strategy.
Action item:
On August 24, the Coleman Community Coalition will be hosting a one-day workshop with John Jantsch of Duct Tape Marketing where you will learn more about growing your business through simple and effective marketing. Register by July 24th and receive $50 off the registration fee.