[This series of posts are simultaneously appearing in the Coleman Chronicle in advance of the planned all-day workshop with John Jantsch, founder of Duct Tape Marketing.]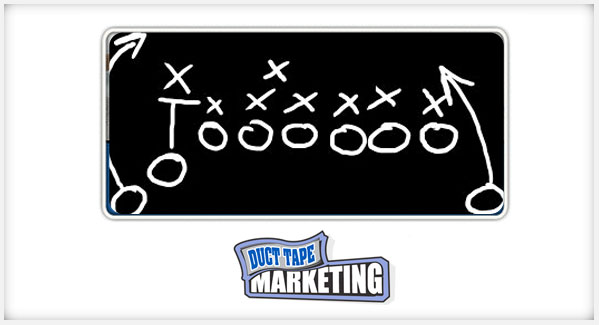 Installing a simple, effective and affordable marketing system is as easy as understanding the importance of strategy, choosing the right tactics and developing a flow of high value content that attracts and helps your audience.
In Part 1 of this 3-part series on growing your business, I shared the key elements of a powerful marketing strategy.  In this second part, I want to give you tactical advice based on the audience you are trying to reach and the core message you have developed that reinforces your unique position as the solution to the customer's problem. (Again, as a refresher from Part 1, if you are competing on marketing messages like "the best customer service in town" or "the best prices" you are going to lose. Find something more winnable to hang your hat on).  Once you know your strategy, you are in a much better position to resonate with your target market and position yourself as the market leader.
The tactical game is as varied as there are "shoot-from-the-hip" schemes or "idea-of-the-month" marketing fads. You have seen them, been impressed by them and likely spent limited marketing dollars on them (with little to show for it). Now that you have a refined strategy in place, begin to chose the tools that will grow your business most effectively.
Tactical approaches should include both "offline" and "online" tools. Just because social media is rampant in our culture does not negate your use of direct mail or in-person events to generate leads. There may be more tools available now, but it requires more discretion to determine their effectiveness. Making Vine videos may be the hottest thing among teenagers, but if that is not your primary target audience, you can table that tactic and look at something else. Your strategy will guide you to choosing the tactics. Never allow the tactical frenzy to lead or you will run yourself ragged and out of business.
While "offline" and "online" each give you distinct advantages, integrating the two will be allow you to be most effective. If you place an ad in a local publication, drive readers to a unique landing page on your website. You can track hits to that targeted page and capture lead nurturing information such as name, address, phone and certainly an email address. With the latter, you can then follow up with them in a series of email marketing messages that offer content that educates and builds trust. When you are on social media, drive people to a phone call or live event where they can further get to know, like and trust you.
In order to grow your business, you must determine who you are reaching and how you do it better than anyone else. Then you have a filter through which to choose and measure a tactical plan to achieve your results. In the final installment, we will examine how to generate attractive content that turns your leads into customers.
In part 3, we examine the content strategy of your marketing system.
Action item:
On August 24, the Coleman Community Coalition will be hosting a one-day workshop with John Jantsch of Duct Tape Marketing where you will learn more about growing your business through simple and effective marketing. Register by July 24th and receive $50 off the registration fee.