[This series of posts are simultaneously appearing in the Coleman Chronicle in advance of the planned all-day workshop with John Jantsch, founder of Duct Tape Marketing.]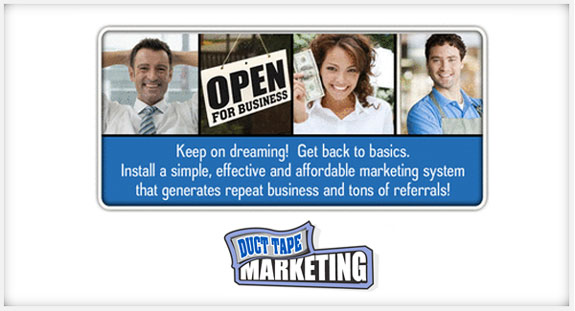 The reason that marketing is hard for most small business owners has to do with why people start a business in the first place.  The typical small business is started by someone who knows how to do something. It might be how to prepare taxes, how to wire a ceiling fan or how to plan a wedding.  The business owner's "know how" does not necessarily mean they know how to do everything.  Therefore, successful small businesses have systems for finances, payroll and they need one for marketing, too. In this 3-part series, you will learn that installing a simple, effective and affordable marketing system is as easy as understanding the importance of strategy, choosing the right tactics and developing a flow of high value content that attracts and helps your audience.
The definition of small business marketing can be as simple as this: getting people who have a specific need or problem to know, like, trust and do business with you.  And if you market to these customers the right way, they will return and refer you to others who are looking for the same solution.  Cultivating loyal ambassadors is more important than just creating sales transactions.
More effective marketing understands "strategy before tactics'.  In the past, you may have employed "shoot from the hip" marketing where you toss money at every whim, fad and slick salesman who convinces you that their tactical approach will grow your business.  Having a well-defined strategy is the foundation for better marketing.
What makes up your "strategy"?
First, identify your ideal audience.  Be as specific as possible. This unique audience also has its own set of needs, pains, problems, frustrations and fears. What keeps them awake at night?  What solution do they long for that they can't find an answer anywhere else?  Know their buying habits well.
In addition, how does your business offer a unique solution? Is there some thing, some way, or some experience that your business can offer your audience in a way no other business can?  This is your key differentiator. This clarity on your audience, their pain points and your competitive advantage provide the basis of your strategy.
Why is strategy so important?
Using any tactic without the benefit of a coherent strategy is like trying to build a house without a blueprint. Without a strategy to help you decide if it will support your long-term business goals, you may be spending more time and money than you would like and getting less ROI than you want.
In part 2 of installing an effective marketing system, we will explore what kinds of tactics to use, when to use them and how to integrate your marketing efforts both offline and online.
In part 3, we examine the content strategy of your marketing system.
Action item:
On August 24, the Coleman Community Coalition will be hosting a one-day workshop with John Jantsch of Duct Tape Marketing where you will learn more about growing your business through simple and effective marketing.  Register by July 24th and receive $50 off the registration fee.