There are a number of basic realities of referral marketing.
People make referrals because they need to – it's built into who we are!  If we see something we like, we tell others.
Referrals are risky because I'm putting my reputation at stake – so while it is inate to refer, I'm cautious to do so.
Rarely do people talk about things they are bored with – so unless you offer relevancy, you're not going to get mentioned by me
When I have a consistent experience with you, I will more than likely become more trusting of you, thus referring you more . . .
These are just some of the realities of referral talked about in John Jantsch's book, "The Referral Engine".  As one of John's Duct Tape Marketing authorized coaches, I am also allowed to give away a FREE download of the first chapter of his book where 5 realities of referrals are talked about in more detail.
Download a complimentary copy of Chapter 1 of "The Referral Engine" (link to my Duct Tape Marketing Coach page and see right sidebar)
Facebook Pages for your business offer a tangible opportunity that support a strong referral marketing system:
Having a dynamic, customized Facebook Page allows you to stay top-of-mind without having to leave Facebook. When communicating via Facebook about your business or nonprofit, consider the reality of Facebook culture:  people are in their "Facebook time" and don't want to have to go elsewhere to read about you.  It's like having some friends over for dinner, affording you opportunity to hear about their lives, their kids, their struggles – and the knock at the door is a man selling the latest money-saving device to come into the market.  The catch is that he wants you to leave your dinner party and go down to his store to see the product demonstration.  Sure, it could save you some money on your bottom line, but you don't really want to miss out on time with friends.  So you say, "I'll stop by later."  Asking people via a Facebook status update (or Facebook ad) to "check out my website" will likely result in fewer results. While Facebook Pages do have custom features that allow you to bridge people to your hub (your site), a Facebook Page presence gives you a outpost within the Facebook culture where people can see  your wares, hear your story, and contemplate further dialog with you.

Having a dynamic Facebook Page gives you 0pt-in permission to remain top-of-mind with your Fans.

At a minimum, having them opt-in to your Facebook Page is like getting them to opt-in to your email database.  To continue the story above, rather than standing at the door (in your status update) and asking guests to leave their dinner party (the "Facebook time"), I am extending an invitation for a 3-minute product demonstration right there in your home.  Because you want to save money where you can, you agree because you don't have to miss out on time with your friends, but you also have easy access to something that is important to you that you don't want to miss out on.  To further the analogy, you see the demo and you love it so much you not only ask for repeat demos, sign up for product information emails, but you also tell all your friends to put down their chips and guacamole and "come and take a look!" (see tagging reference below)
Having a dynamic Page customized showcases your very best – you have some incredibly practical instructional videos and rather than forcing your Fans to go off Facebook to visit your YouTube channel, why not important some of those videos onto a unique video tab. You may want to share your 3-4 most popular videos and then invite them to see more videos over on YouTube.  Once you've proven yourself to be relevant, they will have no problem leaving Facebook to go to YouTube.  Just don't force them to go in the beginning.  You may also want to remind your potential/current Fans that you were on the local news lately, and that they can watch your 5-minute claim-to-fame on your Facebook landing page (here's an example of how one franchisee shares about her segment on a local TV station – scroll to the bottom of their landing Page).  A nonprofit may even want to provide a simple way for interested Fans to make a quick donation – again, not asking the Fans of your nonprofit to leave Facebook to find out HOW to donate, but rather, provide them a custom tab where they can immediately see donation options.  Once they see the opportunities to do something significant, they are more likely to take the next step in actually giving you money.  Give them compelling reasons on Facebook and they will gladly step away from their "Facebook time" to make a difference.

Having a dynamic Facebook Page gives you a referable outpost for your Fans

– with a simple tagging feature (here's Donny's easy video on "tagging" friends and Pages in your personal Facebook status), you afford your goldmine of Fans an easy opportunity to share with their friends about the impact your organization makes or about the kind of business you are.  In their own personal status updates, they can make reference to you and do so in a way that very likely increases more opt-in and new Fans!  Here's a quick pic of how I used a recent status update to not only tag a friend, but refer my friends to 2 different nonprofit groups I love to talk about . . . the words in blue are linkable to directly to that person's or Page's Facebook page (see screenshot below; click to view larger image).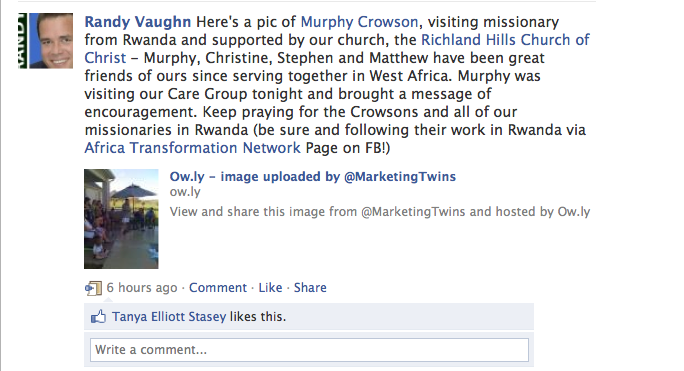 There's a lot of clutter out there, too many distractions, and admittedly, we all miss important things because life is so busy all around us.  So while referrals are built into who we are, even the most important things are often not shared because they are "out of sight, out of mind."  With Facebook Pages, you afford yourself a practical social media tool to stay engaged in the mind of your goldmine of referral sources.
View our gallery of custom Facebook Pages to get further ideas.
-Randy